WINE DOWN: EVERYTHING YOU NEED TO KNOW ABOUT WINE AND SLEEP
A full-bodied red to go with dinner, a crisp white whilst reading a book, or a playful rose as you watch Netflix to wind down after a long day… 
Each of these scenarios is familiar to many of us. In fact, we often equate a glass or two of wine in the evening with relaxation and reward. But is it actually good for us? How much wine is too much wine before bedtime? 
So does wine affect the quality of our sleep? We've done a little digging to find out.
The surprise that makes you sleepy
Wine can indeed make many people feel sleepy. One of the reasons is that there is melatonin in grapes! Melatonin, the hormone that has become a popular natural sleep aid, has been found in grapes and grape-related food items, including wine. 
Reds tend to have more melatonin than whites. This could explain why a few glasses of a Merlot will make you feel more mellow as opposed to similar amounts of Reisling. Further research has also discovered that certain types of grapes tend to carry more of the hormone than others. 
The Cabernet franc grape, for example, does not have as high amounts as the grapes in Northern Italy used to make Barolo wines. The amount changes per variety and type, so there isn't a straightforward guide for this.
Alcohol, in general, also has a sedative effect on our brains. It acts as a depressant in our central nervous system that slows brain activity down, giving that sensation we connect to sleepiness and relaxation.
But just because wine helps us chill out and makes us drowsy doesn't necessarily equate to a good night's rest. Studies have shown that too much alcohol in our bodies at night does affect the quality of our rest.
Not All "Sleeps" Are Created Equal
The alcohol content in wine is metabolised by our digestive systems, and it is a process that happens quite slowly. Any extra alcohol continues to circulate in our bloodstreams. This and some other factors, like an increase in the stress hormone epinephrine (which cause heart rates to rise), may lead to poor sleep quality. Yes, you've fallen asleep, but you might not have a good night's rest after all!
In general, any disruption during bedtime will result in daytime lethargy and moodiness and could impact one's rest the night before and the entire day ahead.  
Excessive consumption also results in more frequent trips to the bathroom as your bladder calls to be emptied. And we all know how hard it is to go back to bed after being rudely interrupted by the call of nature!
For those who suffer from insomnia, having wine right before bed may be counterproductive. 
A disruption of the "deep sleep" portion of the sleep cycle may make insomniacs even more lethargic the following day. Alcohol also relaxes our throats and could exacerbate any sleep-related breathing issues. If you are prone to sleep apnea, think again before you pour that fifth drink.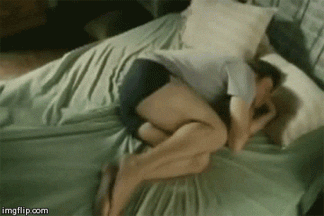 Moderation is the Key
The good news is that despite the above evidence that alcohol does have a potentially negative impact on our slumber, this doesn't mean you have to quit your wine-at-night habit altogether! As with all the pleasures of life, the simple act of enjoying in moderation is the key.
Here are few guidelines to keep in mind so you can continue enjoying your favourite wines to end the day:
1) Start earlier in the evening.
Just before bedtime is the least ideal time to sip that glass of wine because your body needs time to metabolise and digest the alcohol content to ensure uninterrupted deep sleep. Give yourself a few hours (3 to 4 hours are recommended) so that the alcohol effects have time to wear off before your head hits the pillow.
2) Don't binge drink.
Whenever able, limit yourself to no more than 2 to 3 glasses. This is also largely dependent on the ABV of your wine. Measurements vary, but it is generally agreed that about 5 ounces of wine with 12% alcohol constitutes one serving. That comes out to a little over 140ml per pour.
3) Stay hydrated.
Wine is a liquid, but as with all other alcoholic beverages, it can be dehydrating. Match your wine intake with water, double up on the water if possible. Combining this with scheduling your wine time for a few hours before going to sleep will give your body more time to metabolise the alcohol. It will also give you adequate opportunities to empty your bladder while you are still awake.
4) Eat.
Drinking any alcohol on an empty stomach is not recommended. Enjoy dinner with your wine of choice. Not that hungry? Nibble on some crackers and cheese.
5) Drink organic wines
It is less likely to get hangovers with organic wines as it has a much lower content of sulphur dioxide. Sulphur dioxide is a common preservative used to kill or inhibit unwanted bacteria and yeasts in conventional wines. Organic wine contains less than half the maximum legal limit of this preservative. 
References: 
---
---
Also in Sustainable Wine Blog
Alone, with your partner or with close friends, sampling wine at home can actually be a great way to explore new wine varieties and broaden your knowledge of wines. 
Internationally acclaimed brand Neleman Wines is a trailblazer in the organic winemaking industry. Every aspect of their production process has been carefully crafted to honour the unique heritage and biodiversity of the hinterlands of Spain. 
Even today, there is an unfortunate stigma that persists about going green and eating healthy. We're here to prove these stereotypes wrong with a delicious vegan burger recipe for that perfect vegan burger and wine pairing!