UNCORKED: ALL YOU NEED TO KNOW ABOUT ROSÉ
Oh, rosé - the perfect, refreshing drink for a sunny day! Rosé has risen in popularity over the last decade and has become a top choice and a must-have on any party wine list. Furthermore, many wine drinkers love rosé as an easy-drinking wine. However, we think this blush-hued beauty has so much more to offer in terms of depth and complexity of flavour! 
If you wish to delve deeper and understand what rosé is all about, you're definitely in the right place. Let us tell you all that there is to know about this gorgeous wine. No rose-tinted glasses required! 
SO, WHAT EXACTLY IS ROSÉ?
Most often than not, rosé is pink in colour. In terms of flavour profile, it can be placed in between red and white wine. Despite its unique blush colour, which may lead people to believe that it is some strange mix of red and white wine, rosé wine is made with only one type of grape. 
How is rosé made, you may ask? Rosé gets its gorgeous hue from red grape skins. The red grapes are first crushed, and the juice is left in contact with the grape skins for a shorter period, between 2-20 hours (as opposed to several days for red wine). During the fermentation process, the grape skins release tannins which gives the signature pink tone and a unique taste. 
TYPES OF ROSÉ
Rosé wines can either be sweet or dry. However, overall, rosé wines tend to be on the dry side. The grapes offer flavours of strawberries, cotton candy, lemon, and green melons with moderately high acidity. Dry rosé wines have a low sugar content but are high in tannins, therefore giving it the elements of dryness, astringency, and bitterness.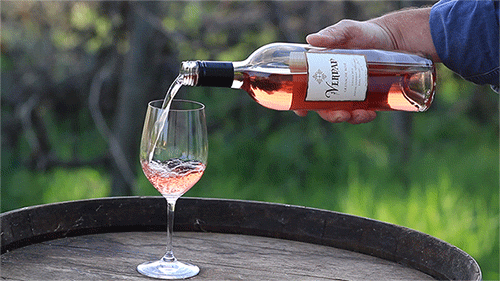 However, how do you know if a rosé is sweet or dry? And what about a bubbly or sparkling rosé wine? The sweetness of rosé is only revealed by tasting, or by asking for help at your favourite wine store! 
Some rosé's, even the non-sparkling ones may have effervescence, thanks to the carbon dioxide that is trapped from the fermentation process. The bubbles compensate for lack of acidity, making the wine so moreish that your mouth starts watering for another sip! 
At Brown Bag Wines, we have a fantastic range of organic and natural rosé's specially curated just for you!
Bordeaux Clairet is a clean and crisp rosé from France. It's floral tones and fruity flavours beautifully showcase hints of roses, currents and red berries. It is truly a delight if you have always been a rosé enthusiast and this is your first try at an organic rosé. 
Velius Rosato is an earthy natural and elegant rosé wine with robust red and black fruity notes. It's a "berrylicious" wine made with strawberries and cranberries. 
Gratena Rosé is our personal favourite and one of our best-selling rosés! In our opinion, it is the perfect bottle of bubbly with intense aromas of red fruits. Somehow, it is both dry and juicy at the same time. If you had to try just one rosé, this should be your top pick!
Then we have Pure Vision Rosé, which is a bottle of organic rosé wine bursting with flavours of strawberries, raspberries, and ripe apples. This wine offers a rather unique savoury finish lending itself to an exhilarating rosé experience!
HOW TO ENJOY ROSÉ
Similar to white wine, rosé is best served in a medium-sized, flared lip glass with a long stem that is usually perfect for a young rosé. This structure allows the wine to hit the top of your tongue and activates your taste buds immediately, which softens the spiciness and rich flavours of the rosé. 
It tastes the best when it's served chilled, at 50-60 degrees Fahrenheit. You can get this perfect temperature by submerging your wine in ice water for 15-20 minutes before serving. Alternatively, you can also store your rosé inside the refrigerator and take it out 20 minutes before serving! 
ROSÉ IN ANY FORM IS AS ENJOYABLE!
Although the most common way of enjoying rosé is to simply drink it, there are a few other ways to enjoy it! Two of the hottest rosé trends are frozen rosé (also called Frosé) and rosé popsicles. 
Make a thirst-quenching treat and the perfect dessert for an outdoor party by serving n rosé pops on a bed of ice and berries. Try out this delicious recipe.
THE BEST FOOD PAIRINGS FOR ROSÉ
Rosé is known for being incredibly versatile because it pairs well with almost anything! The delicious fruit flavours in rosé make it especially great for drinking with spicy foods. Try these pairings to and experience rosé shine:
Sweet rosé pairs well with barbecued meats and roasts and anything dish with rich sauces. On the other hand, dry rosé pairs well with grilled chicken or fish, almost any type of vegetable dishes and a variety of fresh salads. 
Unlike red and white wines, we feel rosé is more like a state of mind! So, get yourself a bottle of natural or organic wine and be ready to rosé the day away!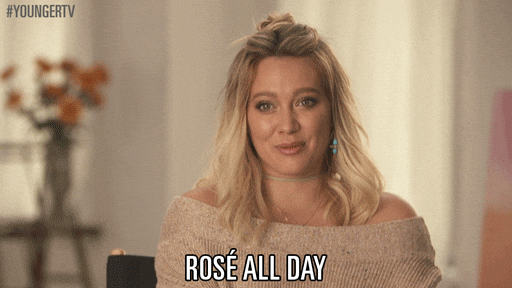 Cheers!
References:
---
---
Also in Sustainable Wine Blog
Alone, with your partner or with close friends, sampling wine at home can actually be a great way to explore new wine varieties and broaden your knowledge of wines. 
Does wine affect the quality of our sleep? We've done a little digging to find out.
Internationally acclaimed brand Neleman Wines is a trailblazer in the organic winemaking industry. Every aspect of their production process has been carefully crafted to honour the unique heritage and biodiversity of the hinterlands of Spain.