UNCORKED: TOP ORGANIC WINES FOR A CELEBRATION
We love any excuse to pop open a bottle of wine here at Brown Bag Wines, whether we're celebrating a friend's birthday or it's just the end of a long Monday! 
But there are definitely times when only a special wine will do, and finding the right balance between originality and approachability for celebration wines isn't an easy task. All too often, we head for the most obvious sparkling wines and ignore some fantastic wines that independent winemakers the world over are making.
So to help you choose your sumptuous organic reds from your sparkling natural wines, we've put together our pick of top sustainable celebration wines to cover any upcoming event. And with National Day just around the corner, what better time to get prepared for a party!
AVOID BIG-NAMES… GO INDEPENDENT
While some of the very best sparkling wines are made by well-known Champagne producers (Dom Pérignon, Bollinger and the rest), there's a world of exciting, accessible sparkling wines from sustainable producers that'll impress any guest.
For instance, there's this brilliant blanc de blanc from AR Lenoble, full of buttery brioche notes and racy, green-apple acidity. Or try the Rosé Terroirs from the same producer, with subtle accents of cherry and orchard blossom led by smoky mineral notes. 
AVOID THE HYPE...GO LOCAL
Both wines still make the pleasing pop when opened (which is half the fun of sparkling wine, let's be honest!), and if a glass of pink bubbles doesn't scream celebration, what does? But with these particular wines, you also get a glass with a story of sustainability – something your guests will no doubt love.
There's often temptation with special occasion wines to select super popular (and expensive) regions that have served many a party-goer well in the past. But why limit yourself to history, when the world of wines is constantly evolving?
Take a detour from the well-trodden path, and you'll find up-and-coming regions in France brimming with new talent. 
Take our St Jaimes from Domaine Les 4 Vents in Crozes-Hermitage, northern Rhône – an intense syrah perfumed with violet, blackcurrant and stewed red fruits. With an elegant palate and a long, slightly smoky finish, this is the kind of organic red that'll get the celebratory dinner table talking. Pair with rich, meaty dishes for a real indulgence.
AVOID THE CLICHÉS… GO UNIQUE
There's a strong chance your fellow party guests will have tried a Chablis or a Californian chardonnay.o unless you've brought a particularly special bottle there'll be no room to wow the guests. 
Think a little outside the box, however, and your chardonnay choice can be a real head-turner. There's great variation from Canada to New Zealand (and everywhere in between), and the regional differences in the grape are interesting for a whole host of reasons. 
You could try something like this organic South Australian wine from Nature's Step, bursting with grapefruit, peach and honeydew melon; an exceptional, easy-drinking wine that'll have your guests comparing notes.
On the other end of the scale, try a lesser-known grape to bring something truly unique to your celebrations. A grape such as  Vermentino in this Ballarino from Valdonica produces a spectacularly complex wine, full of minerality, fresh kitchen herbs and creamy, savoury notes. 
Bonus points if, like the Ballarino, it's made using natural winemaking practices; something unique to discuss with your guests. 
AVOID SHOWY, GO MATCHING
Sometimes a celebration wine is about more than the first glass. Let's consider something like a special birthday dinner, for instance. You'll want a fantastic wine that tastes great in the glass but also matches what's on your plate.
We always recommend heading to Italy if you're looking for a superhero wine – one of those rare wines that are not only delicious but can hold their own with most dishes out there. 
Try this sangiovese blend from Siro Fifty, an earthy yet elegant delight with fruity, toasted notes. Or try a supertuscan from Tangano, a ripe and robust blend that balances pleasant acidity and tannins with a savoury finish. Both wines are great choices when food is at the heart of your celebration. These aren't showy wines, but they are certainly delicious.
AVOID OBVIOUS...GO ORANGE!
It's not often you get to show-off with your wine, so make the most of a fancy celebration with something a little different. Orange wines, both sparkling and still, are bang in fashion and provide a talking point when the cork is popped. 
Go for something sustainably-made yet easy-drinking, like this fantastic sparkling orange wine from Vej. Intense floral notes linger over dry tannins and a long finish. With its signature amber hue, this is a wine that looks beautiful in the glass. 
GET THE PARTY STARTED
So there you have it: five top tips and plenty of wine suggestions to help you pick the perfect wine for your next celebration. All that's left for you to do is to choose your tipple.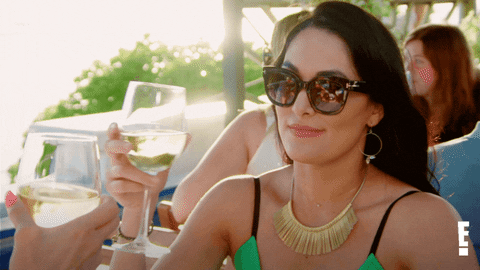 Don't forget one last piece of advice: buy an extra bottle, as these wines go quicker than you think!
If you're looking for a great celebration wine, take a look at our exclusive range here. All the wines featured in this article are available now, but if there's a particular bottle or producer you're looking for that we haven't mentioned, get in touch, and we'll see how we can help. 
For news, updates and more how-to guides, take a look at all of our blog posts here.
Cheers! 
---
---
Also in Sustainable Wine Blog
Alone, with your partner or with close friends, sampling wine at home can actually be a great way to explore new wine varieties and broaden your knowledge of wines. 
Does wine affect the quality of our sleep? We've done a little digging to find out.
Internationally acclaimed brand Neleman Wines is a trailblazer in the organic winemaking industry. Every aspect of their production process has been carefully crafted to honour the unique heritage and biodiversity of the hinterlands of Spain.