FOOD AND WINE PAIRINGS: 8 POPULAR TAKE OUT DISHES
We've entered a time where our homes have replaced restaurants and eating in is now the new eating out. Here in Singapore, we are lucky to have the luxury of ordering our favourite meals from restaurants with most restaurants offering island-wide delivery. 
Ordering-in not only allows us to explore a wide range of food, but it also gives us an extra excuse to celebrate! So, why not make it a complete meal with a bottle of wine!  
Pairing your take out meals with the perfect wine may seem daunting at first. But if we are to give you one piece of advice - always focus on the flavours and pick a wine that compliments your food.  
Let us get you started with our recommendations for the perfect wine + take out experience in the comfort of your own home. 
1. Korean Food
Aaah Korean Fried Chicken! Tender, juicy chicken is fried in a crunchy batter, smothered in a myriad of lip-smacking, sometimes tongue-numbing, always divine sauces. 
Honestly, there's no elegant way to eat this dish. You need to get your hands dirty - in the literal sense!
And what would make Korean fried chicken even better? No, we're not talking about tteokbokki. We're talking wine, of course - sparkling wine to be exact. In our recent article about sparkling wine, we cited sparkling wine to be the ideal partner for fried chicken, and this beauty is the one to start with.  
Try  : AR Lenoble Rose Terroirs 
This is a dry semi-sweet sparkling rose with smoky mineral notes and a citrusy overtone. This is code for absolutely, amazingly yummy! Its sweet and sharp effervescence will be the much-needed relief from the rich and spicy chicken.
2. Pizza
The main flavours that come through when you sink your teeth into a slice of pizza are the chewiness of the dough, the sharp, bright freshness of the tomato sauce and the richness of the cheese. Given that there are various varieties of pizza, you can try these! 
Margarita with Gratena Rosé
Rosé goes beautifully well to compliment the fresh basil and tomato flavours and cuts through the richness of mozzarella.
Quattro Formaggi with Pafoj Bianco
This four-cheese pizza needs a robust white wine to beautifully balance the luscious flavours.
Pepperoni with Chianti 
This sure is a family favourite! To complement the intense savouriness of pepperoni, we suggest a wine with rich, rustic flavours. This red wine cuts through the fat and saltiness. 
3. Indian food 
Indian food is as varied and as exciting as the world of wine! To some, trying Indian food can be daunting at first due to the myriad of ingredients that go into making it! 
This exotic cuisine usually comprises of (but certainly not limited to!)  savoury rice or freshly made bread, deliciously sumptuous curries, chutneys, and sauces. 
Due to its complexity in flavour, well-defined wines with definite character are the best to accompany Indian food.
These wines pair perfectly with the spicy Indian curries: 
Pure Vision Rosé pairs well with spice-heady and tomato-based curries such as Chicken tikka masala, Vindaloo, Paneer Makhani. The semi-sweetness of the wine mingles with the spice in the food, making it a perfect match with fruity wines like rosé.  
Try Supertuscan Tangano with cream-based curries such as Chicken Korma, Malai Paneer and Jalfrezi. These dishes are usually quite rich and creamy. Therefore wines such as the Tangano tend to cut through the richness beautifully. 
4. Hot Pot 
Hotpot more than just a type of food. To most Singaporeans, hot pot is a quintessential bonding experience with the fiery Mala version being somewhat of a "rite of passage"! 
Hotpot usually contains a myriad range of fresh vegetables and meats. Its Mala counterpart has a serious mouth-numbing hit of chilli oil and Szechuan peppercorns. It is indeed amazing how anything Mala almost numbs your mouth but still leaves you wanting for more!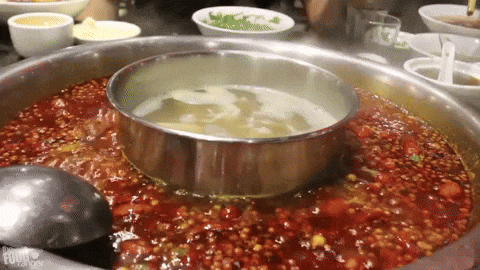 All this savoury spiciness begs for a refreshing, sweet wine. 
Try Nature's Step Chardonnay This organic chardonnay has aromas of grapefruit, peach, and honeydew melon. The acid in this wine hydrates the palate, and the sweetness helps to cut that heat - making it the perfect pairing!  
5. Sushi 
Sushi is one of the most popular foods the world over and quite rightly so! It offers a diverse and delicious range of options from tempura rolls to nigiri and maki. It's so well-loved that many sushi restaurants now offer fusion twists as well. 
While you may feel like sake is the natural choice of alcoholic beverage to accompany sushi, we think wine is a perfect option too!
Try Lama, with a dragon roll: 
This white wine has mineral aromas that lead to floral and green scents with hints of spicy notes. The razor-sharp acidity cuts through the saltiness of the soy sauce and the richness of the slightly sweet rice. The green flavours dance wonderfully well alongside the cucumber and avocado.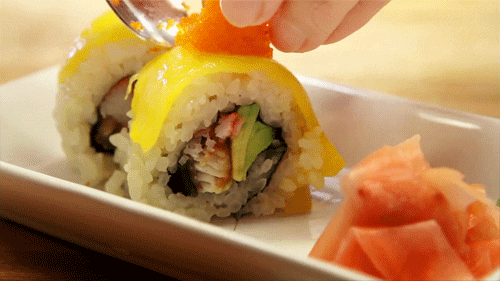 Cremant du Jura with a chopped scallop roll:
This is an outstanding complement to chopped scallop rolls given that scallops are naturally sweet, soft, and delicate. When made spicy, a creamy chopped scallop roll begs for a touch of sweetness and acidity. 
Bordeaux Clairet with a California roll: 
Rosé naturally has bright acidity. This Bordeaux is blended with roses, currants, and blackberries. The crab and creamy avocado in a California roll is a perfect match with this light and bright rosé.
6. Dim sum 
Just the sight of steamers piled high filled with an array of little packages of magical deliciousness gets us excited.  Dim Sum, which literally means "to touch the heart" has evolved over hundreds of years to be a full meal, even a culinary ritual. 
If you're a believer that wine can only be enjoyed with western food, having a gorgeous glass of wine with your favourite Dim Sum is all you need to be convinced otherwise.
Try this : AR Lenoble Grand Cru Blanc de Blanc
On its own, this light sparkling white wine might taste a little sweet. Still, when paired with juicy dumplings and chilli, the sweetness gets taken down a notch. This wine can also handle the saltiness and peppery heat of soy sauce due to its fruity flavours and sweetness. 
7. Brunch 
Think fluffy buttermilk pancakes, scones, eggs benny, truffle scrambled eggs, salmon and cream cheese bagels and the works! Need we say more? We're blessed with a wide range of amazing restaurants delivering scrumptious brunches to households across Singapore during the circuit-breaker period.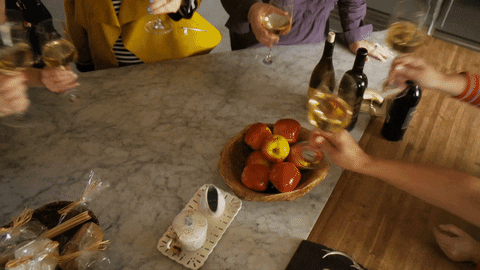 Vej Brut is a classic Italian sparkling orange wine made from organic Malvasia grapes with beautiful amber colour with floral notes and a long finish. It is a match made in brunch heaven!
8. Desserts and cake
Sure, coffee and tea go great with cake! However, if temptation strikes and you order some cake and pastries for your evening tea, why not have a glass of wine with it? 
Trust us when we say, cakes and wines bring out the best in each other! 
Try any citrus cake with Vej Antico Bianco
Similar to lemon cake, this white wine is light with the citrusy orange flavour intensifying the tart lemon in the cake. 
Cheesecake with Cantavento
The creamy and rich cheesecake has high-fat content which pairs perfectly with aromatic wines with fruity flavours.
Funfetti Cake and Velius Rosé
Even Funfetti cake deserves to be eaten with wine! It neutralises the sweetness on the palate. The delicate strawberry flavours and bubbles in sparkling rosé together with the cake are the perfect match. 
"If it grows together, it goes together." We are huge believers that food and wine are incredibly intertwined. More and more people around the world are enjoying wine with their local cuisines as they become more aware of how wine elevates all types of food.
So, the next time you order take-out, we sure hope you use our guide and pair it with wine! 
Cheers!
---
---
Also in Sustainable Wine Blog
Alone, with your partner or with close friends, sampling wine at home can actually be a great way to explore new wine varieties and broaden your knowledge of wines. 
Does wine affect the quality of our sleep? We've done a little digging to find out.
Internationally acclaimed brand Neleman Wines is a trailblazer in the organic winemaking industry. Every aspect of their production process has been carefully crafted to honour the unique heritage and biodiversity of the hinterlands of Spain.