THE BEST TV AND WINE PAIRINGS TO GET YOU THROUGH CIRCUIT-BREAKER
Picture this: It's Friday night. With no more emails to check your phone is switched to silent mode. You sink into your comfy couch decked in your most comfortable pyjamas a delicious home-cooked meal in hand. Yes, you guessed it - it's time to binge-watch some riveting television. 
In the tone of one of our all-time favourite Friends, "Could this evening BE any more perfect?" Umm, yes it can! Go grab a glass of wine. We promise it will be worth the effort. 
Check out our TV and wine pairing that could potentially be as fabulous together as Meredith and Derek! No spoilers, we promise!
1. Game Of Thrones (HBO Max) 
"Daenerys Stormborn of the House Targaryen, First of Her Name, the Unburnt, Khaleesi and the Mother of Dragons" - Does this line give you chills?? If you've watched this show before, you'd know how wine is a massive part of it. 
We revel in the fact that the characters, especially Cersei sip (sometimes gulp) wine while doing all that plotting!. To ease the tensions of the seven kingdoms, you simply must have wine too.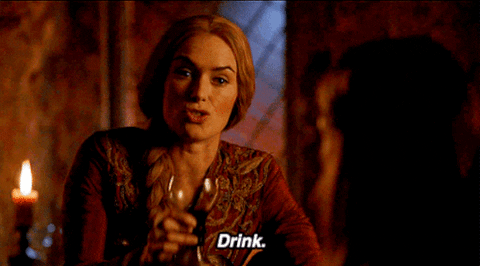 The perfect wine pairing: Saint James 
This wine has an intense bouquet of blackcurrant and stewed red fruits. This is the most perfect pairing as it has a smoky flavour, almost giving it an evil tone. The generous aroma of red fruits and liquorice makes the wine vintage.
2. Grey's Anatomy (Netflix)
If there was one drama that encapsulated suspense, heartbreak, joy, inspiration and all the feelings humanly possible, it is this award-winning hospital drama. We have watched as Meredith learnt, loved and lost and cried and celebrated with her and her very loyal friends. 
Trust us when we say it's going to be an emotional rollercoaster ride! So you'll need some of this gorgeous rosé. 
The perfect wine pairing: Gratena Rosé
This rosé has intense aromas of red fruits which are dry and juicy at the same time, and its delicate tones are for the warmer, feel-good moments. 
3. The Office (Amazon Prime)
We thoroughly enjoy that amongst all the things Michael Scott claims to be, (one being the "world's best boss") wine connoisseur is one of them. The somewhat dry humour of this show and Michael's wine descriptions such as "Kinda sorta an oaky afterbirth" will leave you in stitches!
The perfect wine pairing Organic Chianti
Made with perfectly blended Sangiovese grapes, It is laced with red fruits and underlying sweet spice aromas. Its bold, medium-bodied, toasty, and lingering finish will be the perfect accompaniment in the company of the Dunder-Mifflin's employees. 
4. Friends (Netflix) 
Could we BE any more excited? When you can't catch up with your own friends due to social distancing, we can't think of a better bunch to hang out with. Binge-watch this iconic 90's sitcom where every single one of the six friends will be your favourite. Really though, were Ross and Rachel on a break? You may need a glass of white wine to take you through that conundrum! 
The perfect wine pairing: Icardi 
An easy-drinking still white wine for an easy watch like friends! This straw-yellow white wine is pleasantly fruity with aromas of flowers and ripe peach. This white wine is still, quite unlike Rachel and Ross's relationship!
5. The Crown (Netflix)
If you're a fan of political rivalries, historical drama, and forbidden romance - hit play! Peek at life inside Buckingham Palace, where you'll see the queen experience the chronicles in her life from her marriage with prince Phillip to her present-day dealings and relationships. 
The perfect wine pairing: Ballarino
This wine is rather complex yet structured like The Queen herself. It's floral with hints of eucalyptus and kitchen herbs followed by a slight "woody" presence. When you drink it, it leaves a fresh and tasty mineral, savoury note which is perfect for a high-class royal binge-watch.
6. Sherlock (Netflix)
Sherlock and Doctor Watson are always out investigating in chilly and drizzly days which calls for a glass of red wine. Benedict Cumberbatch's portrayal of Sherlock Holmes surely is sublime - quite similar to our wine suggestion here.
The perfect wine pairing: Arnaio 
A classic Italian red wine with overripe strawberries and cacao. The earthy notes are soft on the tannins which pair perfectly with the eccentric and brilliant Sherlock Holmes' adventures on the busy streets of London. Arnaio is rounded on the mouthfeel with a medium to long finish, which makes a beautiful palate. 
7. The Marvellous Mrs Maisel (Amazon prime)
Watch Miriam "Midge" Maisel live the American dream with her perfect (or is he?) husband and two kids in an apartment on New York's upper west side. Until she discovers her hidden talent – Stand-up comedy!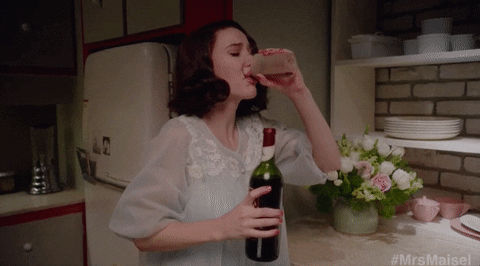 The perfect wine pairing: Lama Chardonnay 
A classy and crisp white wine, which perfectly matches Mrs Maisel's energy and humour. This Lama is a pale straw-white wine with golden reflections and has an extraordinary range of floral notes. The mineral aromas lead to green, floral scents with hints of elderflower and spicy notes. 
8. Breaking Bad (Netflix)
Meth, gang violence, and mortality of a middle-class American man. Walter White's story will spike your adrenaline, keep you on the edge of your seat and hold you in suspense, making drinking a glass of wine a necessity! 
The perfect wine pairing: Libens Rosso 
This is a natural red wine with notes of black current, coffee, and underwood. Expect elegant touches of persistent red fruits, black cherry jam, wet rope, and a foxy hint. It has a wide full-body, making it perfectly balanced, fresh with silky tannins, and an infinite persistence.  
9. The Final Table (Netflix)
Ambitious chefs compete in a culinary competition featuring chefs from around the world preparing national dishes. A heated game requires an excellent fruity red wine to calm your nerves. Believe us, this can be nerve-wracking! Pair our wine suggestion with one of your favourite recipes from the show for maximum effect!
The perfect wine pairing: Shiraz 
A perfect fit as it's an intense fruity red wine displaying flavours of classic blackberry, spice with hints of bacon fat, and cured meat on the palate. It's a full-bodied, balanced wine aged in the older French oak which has been gracefully aged for 3-5 years. 
10. Modern Family (Netflix) 
This hilarious comedy is about an extended family and their not-so-ordinary life. Well, we can't give too much away so you will have to simply binge-watch the entire 11 seasons! The Pritchett's, Dunphy's, and Tucker's experiences are so relatable, it will make you feel like you're watching your own family.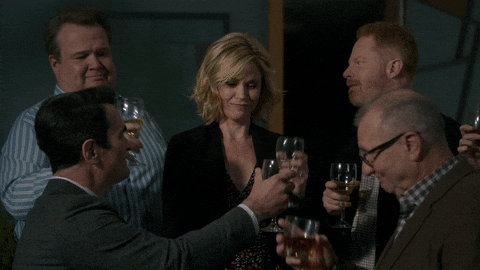 The perfect wine pairing: Sauvignon Blanc
It displays lovely aromas of fresh lemons and limes followed by subtle flavours of grapefruit on the palate. Its pale yellow with green hues and light, yet rounded refreshing white wine with zesty acidity and a crisp, dry finish. 
We hope these wine suggestions help enhance your viewing experience. If you want any of these wines to be delivered to you, simply add them to your cart, and we will take care of the rest.
---
---
Also in Sustainable Wine Blog
Alone, with your partner or with close friends, sampling wine at home can actually be a great way to explore new wine varieties and broaden your knowledge of wines. 
Does wine affect the quality of our sleep? We've done a little digging to find out.
Internationally acclaimed brand Neleman Wines is a trailblazer in the organic winemaking industry. Every aspect of their production process has been carefully crafted to honour the unique heritage and biodiversity of the hinterlands of Spain.