HOW TO: CHOOSE WINE FOR BEER DRINKERS
We know introducing people to wine can be a tricky business, especially when they prefer a glass of hops to grapes. But here at Brown Bag Wines, we feel there are times when only wine will do. So, if you're looking to convert your beer-loving friend then here's our little trick: ease them into the delights of the vine by echoing the flavours you know they love in beer.
With International Beer Day this month, what better way to bring our two drinking tribes together than with our handy guide? Bookmark this, and you'll have a handy reference to introducing wine to your beer-loving friends anytime you need it. 
IF YOUR BEER DRINKER LOVES...
Lager/Pilsners
Try organic Champagne. The lively effervescence and fresh green apple-acidity provide a similarly refreshing drink to the bubbles of light beers like lager and pilsner. You're trying to match something crisp and dry to quench the thirst, so chill thoroughly and ditch the flutes – a standard white wine glass suites a Champagne perfectly, and your beer drinker will probably appreciate it more.
Wheat Beers
Try organic South Australian Chardonnay. A well-balanced chardonnay combines its mouth-filling creaminess with notes of grapefruit and peach.  These flavours match the smooth and creamy notes found in wheat beers. 
IPA/Pale Ales
Try a silky natural Merlot blend from France than lagers and pilsners but aren't quite as bitter or roasted as their darker cousins. The smooth elegance of a merlot blend, matched with the wine's fresh and fruity flavours, echo pale ale-style beers that are fruit-forward and moderately bitter. 
Stouts/Porters
Try robust Italian organic reds. Stout and porter drinkers should be easier to convert to the ways of the vine, as similar flavours (like roasted, earthy notes) are shared between the beers and bigger reds. Start with medium to soft tannins and juicy fruits to match the toasted notes. The stout drinker will no doubt find how similar the food pairings are between their beer and wines like this.
Lambics/Sours
Try a sparkling natural orange wine. Here's where you can start to have some fun. Lambic and sour beer drinkers tend to love the sharp acidity of the beer balanced with the fruit and often atypical aromas. Orange wines can be similarly confusing, with their beautiful amber hue and intense floral notes. A sparkling, off-dry orange wine is often a surprising glass of wine, but to the lambic and sour beer drinker, surprise is familiar territory.  
STARTING THE WINE JOURNEY 
So there we have it: our list of wines that'll convince the beer drinker in your life to put down the pint and pick up the bottle! Once they're on the wine discovery road, we're sure they'll be surprised just how many similarities there are between great wines and beers.
If you're looking to introduce a beer drinker to the world of wines, take a look at our exclusive, all-organic range here, or get in touch if there is something we can help you with. Cheers!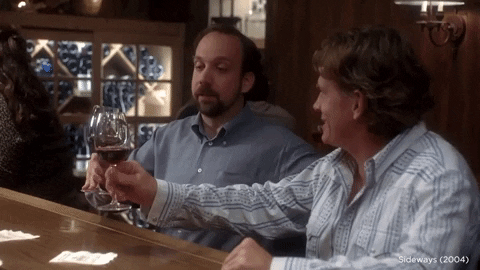 References:
---
---
Also in Sustainable Wine Blog
Alone, with your partner or with close friends, sampling wine at home can actually be a great way to explore new wine varieties and broaden your knowledge of wines. 
Does wine affect the quality of our sleep? We've done a little digging to find out.
Internationally acclaimed brand Neleman Wines is a trailblazer in the organic winemaking industry. Every aspect of their production process has been carefully crafted to honour the unique heritage and biodiversity of the hinterlands of Spain.