HOW TO: CHOOSE SUSTAINABLE WINE FOR EVERY OCCASION
"Wine makes every meal an occasion, every table more elegant, every day more civilized." 
We at Brown Bag Wines are in full agreement with food and wine writer Andre Simon (even if we might be a little biased!). Any occasion can be made extra special with a great bottle of wine. Sometimes a great bottle and a few close friends are all it takes to make a great evening! 
With that in mind, we give you our top tips on picking the perfect bottle for every occasion, from matching with meaty steaks at a barbeque party, to pairing with a slice of pizza in front of a movie. 
Follow these tips, and you'll be the first invite to every party (just don't forget a corkscrew!).
PICNICS AND GARDEN PARTIES
Singapore's warm sun calls for something super juicy and refreshing – especially if you're eating too – so stick to crisp whites or fruity, light reds. 
Try a South Australian chardonnay, or even dip into the bubbles – this elegant rosé Champagne makes the perfect partner to traditional garden party fare.
HOUSEWARMINGS, BIRTHDAY PARTIES...ANY CASUAL GATHERING IN THE EVENING
Let your imagination run wild. Something easy-drinking is great at casual get-togethers, so crowd-pleasing whites like sauvignon blanc are a sure-fire win. Parties are also a great chance to try something from a new producer or an interesting new grape varietal or style, like this orange wine. 
Remember, your host may be too busy entertaining to appreciate the wine fully, so often a well-intentioned gift gets left on the side. We recommend you don't spend too much money unless you're sure your host will get the chance to taste it.
Top tip: If the bottle is something you're desperate to try at the party, buy an extra one and take both. Your host still gets a gift, and you can sip guilt-free. 
BBQS AND OUTDOOR GRILLS
A BBQ is the perfect chance to crack open those big, bolshy reds that you've been waiting on. Smoky, fatty meats and the variety of sides mean a spicy shiraz or bolder French blends will be up to the task.
Top tip: Chill your reds before you serve them, and keep a bucket of ice nearby. If you're drinking outside or next to a hot grill, your wine will soon warm up; left in the heat too long and they'll quickly cook. You want spicy dark berry flavours, not something too jammy.
ANNIVERSARIES, ENGAGEMENTS, ANY SPECIAL OCCASIONS
Celebrations such as these are always a great excuse to pop a bottle of bubbly (if you needed one!).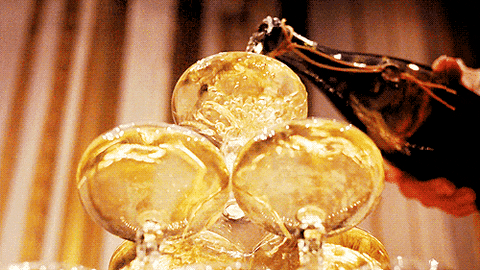 If you're looking for something more exotic, straying away from the big names in the champagne world is a great way to find new tastes in sparkling wines, often at a more affordable price, too. There's a range of methods and grape varietals that lend themselves to anything from deeply savoury to light and sweet; ask your wine seller for recommendations, or take a look at our range of bubbles here. 
Top Tip: You don't need flutes to enjoy great sparkling wine. While they provide elegance to proceedings, your standard white wine glasses are more than capable of doing the job. In fact, you'll find you pick up more of the aromatics from the wine this way.
PIZZA AND MOVIE NIGHT
The adage "What grows together, goes together" rarely fails, so if faced with a charred, chewy pizza crust, go Italian. Reds with higher acidity work well against the tomato sauce and fattiness of the cheese; a Sangiovese blend will do nicely. Italian reds are great with food, so you'll find this style extremely versatile when you're ordering take-out and chilling out with friends.
Top tip: If you fancy something a little lighter, sparkling wines and pizza are a surprising win. The savoury effervescence matches the chewy dough beautifully; try our Champagne and see for yourself.
LUNCH DATES
Whether you're meeting up for a lazy lunch on a Sunday or grabbing a quick bite on your lunch break, a glass of something delicious will brighten your day. Stick to something light and lower in alcohol ideally, unless you fancy napping through the afternoon. Sparkling orange wine like this one comes in at just 11% alcohol, meaning a glass or two won't ruin your day.
Have we missed any? 
If you need a wine recommendation for an upcoming occasion, we'd be more than happy to help; get in touch with us here.
Cheers!
References:
Bonné, Jon (2017). The new wine rules. Ten Speed Press.

Robinson, Jancis (2017). The 24-hour wine expert. Penguin Random House.
---
---
Also in Sustainable Wine Blog
Alone, with your partner or with close friends, sampling wine at home can actually be a great way to explore new wine varieties and broaden your knowledge of wines. 
Does wine affect the quality of our sleep? We've done a little digging to find out.
Internationally acclaimed brand Neleman Wines is a trailblazer in the organic winemaking industry. Every aspect of their production process has been carefully crafted to honour the unique heritage and biodiversity of the hinterlands of Spain.