UNCORKED: EVERYTHING YOU NEED TO KNOW ABOUT SPARKLING WINE
We often associate sparkling wine with celebrations. However, in our opinion, champagne, or any other sparkling wine isn't just for special occasions! 
Since it's the day-to-day moments that make our lives that much more precious, we feel it's important to celebrate the simple pleasures. Also, let's be honest, a glass of bubbly just makes everything that much more fancy. So why not, right?
Did you know that while all champagne is sparkling wine, not all sparkling wine is champagne? If this conundrum has left you scratching your head, don't you worry. We've got you covered! 
Furthermore, we find it immensely interesting that the history of sparkling wine includes accidental science!  
During the early days, while making wine, it is said that some light bubbles popped up during the winemaking process. Now, this wasn't meant to occur. The ancient (we're guessing somewhat perplexed) winemakers didn't know the reason behind it. 
As it turns out, this was because of the winter weather, which halted fermentation. As winter passed, the yeast "woke up" as the temperature in the atmosphere increased. This occurrence first began in France and Spain using the Methode Champenoise. Then Italy where they used the Charmat method. 
Since then, sparkling wine has been made using various methods in different countries, and it's a type of wine we all enjoy irrespective of its origin. 
So, what exactly is sparkling wine? 
Simply put, it's a type of wine which bubbles when poured into a glass. The fizziness causes the wine to sparkle, making this category of wine quite unique. The sparkle in the wine is the result of dissolved carbon-di-oxide, which builds up when the wine is held under pressure inside the bottle. 
However, the sparkling wine aisle can be a confusing one. Therefore, to help you choose the perfect wine to suit your taste buds, check out our list of the six most popular types of sparkling wine! 
Champagne
Champagne has become so popular over the years that it is erroneously referred to as "sparkling wine". But, a bottle of sparkling wine can be considered champagne only if it comes from the champagne city, in France. But, a bottle of sparkling wine can be regarded as champagne only if it comes from the champagne city, in France. Champagne is so versatile that it pairs perfectly with healthy breakfasts and fried foods alike! 
The tiny bubbles on your tastebuds create a fruity and a slightly sweet taste which is perfect for all the celebrations! At Brown Bag Wines, We have a delightful selection of champagne to help you start your journey into the world of champagne. 
Grand Cru Blanc de Blanc by AR Lenoble, is an exceptional organic white champagne with pronounced notes of delicious green apples, brioche, and pasty. 
Rosé Terroirs by AR Lenoble, a French rose champagne with stewed berry flavours which is not only intense but also elegant. It has smoky mineral notes and a citrusy overtone. The chalky texture carries subtle accents of black cherry, orchard blossom, and biscuit.
Crémant 
Crémant is a sparkling wine which is produced in Limoux, Loire, and Burgundy in France. This type of wine is also created in the traditional method as champagne. Although, unlike champagne, Crémant has a creamy, earthy, and nutty taste rather than fruity or rosy. 
You can try this crisp and elegant Cremant Cuvée Adrian. It has the perfect acidity and persistent fine bubbles. This organic sparkling wine is sophisticated yet fresh with stimulating flavours of apples and pears. It also goes great with cold salads or with fresh fruits as an evening snack!
Prosecco 
Prosecco gets its name from a small village it is produced in Prosecco, Italy. Prosecco is made from glera grapes which tend to be on the sweeter side. It's a popular addition to cocktails since It has larger bubbles as compared to some of the other wines because it is made using the Tank method. 
Sekt 
This sparkling wine which is produced in Germany has a fruity and floral taste that comes from apples, pears, and white flowers which are used in the making of it. It's well known for its low sweetness and alcohol levels and therefore is quite popular all around the world.  
Rosé
Sparkling rosé is always a crowd favourite, isn't it? It is best known for its rosy-pink pink colour and a beautiful fruity aroma. Rosé is usually made using grapes, but sometimes strawberries rose petals and rhubarb are also used in the making of rose, which gives it that blush colour.  
If you're just starting to venture into drinking sparkling wine, we assume you might have some questions. 
What's the correct way to open a sparkling wine bottle?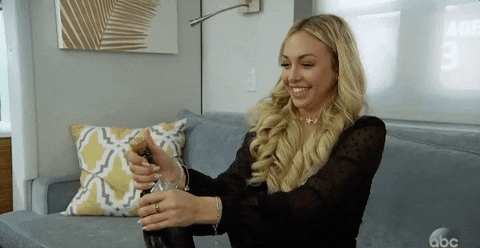 Firstly, you need to remove the foil and the cage. Then put one hand on the cork, and the other on the bottom of the bottle. Make sure to keep the bottle pointed in a safe direction because, well, accidents involving the rare flying cork aren't unheard of!! Gently twist the bottle to loosen the cork until you hear that signature "pop of success".
Click here to see how it's done.  
What's the best way to store sparkling wine? 
To keep your bubbly bottles fresh and crisp as new, it's best to keep all your bottles away from the sunlight. Make sure to store it in a place where the temperature is consistent. For storing it for a short amount of time, it's best to store the bottles standing up. However, if you need to hold the bottles for a more extended period, you may keep them horizontally.
How is sparkling wine best served? 
The ideal temperature for serving sparkling wine is 40-50 degrees Fahrenheit as it tastes best when it is chilled. You can achieve a cold glass of bubbly by storing your bottle of sparkling wine in the refrigerator for approximately three hours or by submerging the bottle in ice water for 30 minutes.
You simply cannot experience the perfect sparkling wine experience without it being served in the ideal glass. Sparkling wine tastes the best when it's served in a flute as it helps to preserve the bubbles. You can read this article to find out more about which glass needs to be used for the different types of wines.
When it comes to pairing food with your glass of bubbly, you can never wrong with fried chicken! "Why," you might ask? It is because a lot of oil and fat get trapped in fried chicken during the frying process. Sparkling wine cuts through the richness of the fried chicken and acts as a refreshing palate-cleanser with every bite!
It is safe to say you have achieved "expert" status with all this sparkling wine knowledge you have gained. So, get your hands on some of the bottles mentioned above and experiment away! 
References:
---
---
Also in Sustainable Wine Blog
Alone, with your partner or with close friends, sampling wine at home can actually be a great way to explore new wine varieties and broaden your knowledge of wines. 
Does wine affect the quality of our sleep? We've done a little digging to find out.
Internationally acclaimed brand Neleman Wines is a trailblazer in the organic winemaking industry. Every aspect of their production process has been carefully crafted to honour the unique heritage and biodiversity of the hinterlands of Spain.