DECANTED: TOP 5 TIPS ON GIFTING WINE TO A FRIEND
We know the feeling. You want to give a present to your wine-loving friend, but you just can't remember the bottle they said they loved. Did they mention they liked merlot or couldn't stand it? You're clicking through site after site, faced with a never-ending array of wine types and vintages, overwhelmed with choice. You become convinced that the expensive Burgundy must be worth it...
If that sounds like you, don't dismay; we've all been there.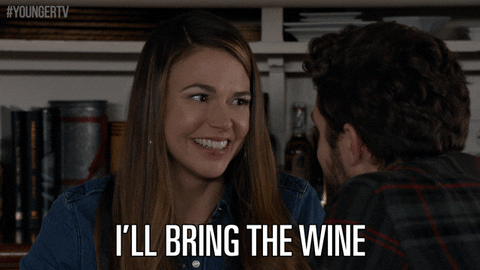 At Brown Bag Wines, sharing our favourite wines with loved ones is our speciality. And because International Friendship Day is just around the corner (and gifting wine isn't easy!), we want to arm you with the confidence to go forth and gift!
1. YES, YOU'RE BUYING FOR YOUR FRIEND, BUT IT HELPS IF YOU LIKE IT TOO
Let's get to the point: if you know your friend can't stand full-bodied reds, even the smoothest shiraz won't cut it. Similarly, if you don't drink chardonnay, trying to find a crisp Chablis is going to be tricky.
Your best bet is to pick a style you both enjoy and work from there. And remember, if you love a bottle, there's a high chance your friend will love it too. 
Bonus Tip: Don't be scared to be adventurous! Some of the best wines in the world come from grapes and regions that aren't the trendiest or most popular. If you and your friend once enjoyed a Provence rosé, why not try gifting a lesser-known Italian or Australian rosé wine?
2. MORE EXPENSIVE DOESN'T ALWAYS MEAN BETTER
Yes, there is a lot to be said for aiming for the more expensive wines – picking up a bottle from the historic vineyards in Burgundy or the trendy wineries of Napa, for example. But wine prices (particularly at the top end of the scale) are swayed by mysterious forces and rarely reflect real value. Moreover, you'll have probably bought a bottle your friend will need to cellar for some time before enjoying, which is not ideal.
Wines from newer and up-and-coming regions, including smaller producers, often represent some of the best value in the wine world. If in doubt, ask your seller to point you in the right direction; you'll get an affordable wine that makes an excellent gift for your friend.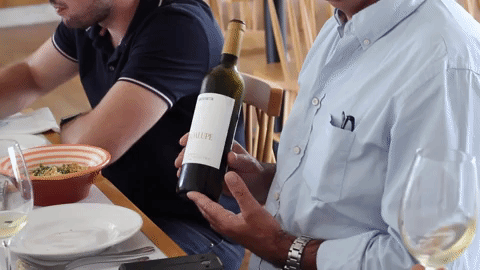 Bonus tip: You don't need to be a wine expert to see the true value of wines anymore. With apps like Vivino and Delectable, you can see reviews from real drinkers and average prices to help you decide. Armed with that kind of knowledge, you'll never overpay for a gift again.
3. BUY BASED ON THE PRODUCER, NOT ON THE LABEL
With so many new producers and so much variation on shelves, old ways of gifting wine are slowly dying out.
Our tip: avoid picking based on the label and think about who made the wine and how. Telling a story with a bottle of wine can make your gift more meaningful. 
If your friend only eats organic food, find a bottle from a small-batch, organic vineyard that your friend will love to hear about. If you're making an effort to live more sustainability, finding a producer that matches those values will be important to you.
There are plenty of great wine producers doing all of the above, so ask your local seller to recommend some. They should be able to tell you more about the wine producers, how each wine is made and what makes them stand out.  
Take a look at our selection of organic, biodynamic and natural wines – we have a close relationship with all the producers we feature.
Bonus tip: All that being said, the trend for beautiful, artistic labels continues (even in France, where labelling can be notoriously conservative). A tasty wine, great backstory and a beautiful label? Now that's a gift!
4. FIND A GOOD SELLER
Still struggling? Here's where your local or online wine merchant becomes your key ally. Finding someone who knows their wines and wants to share their knowledge with you makes the world of difference. 
Be confident with what you want; the best sellers will want to share their fantastic wines with you and your friend, not just get rid of old stock they have hanging around.
Bonus tip: If you have time to spare before sending your gift, grab a bottle for yourself and try it. You'll be able to see if you like what your seller is suggesting, and you may even find the perfect bottle for your friend as part of the journey!
5. MATCH THE BOTTLE TO THE OCCASION
Here's a cheat's trick to buying a great bottle of wine: matching it to an occasion is often easier than trying to find the perfect bottle for a person. 
If you know you'll see your friend at a BBQ, grab that spicy South Australian Shiraz. If you're heading out to a picnic in the park or garden party on a sunny weekend, take a bottle of French rosé Champagne. If you know what your friend likes to cook (or eat), it can make gifting the perfect bottle for them much easier.
Bonus Tip: A great present idea can be a wine pairing that you love. Maybe a bar of single origin dark chocolate with an organic Chianti bursting with dark cherry and chocolate notes. Or something a little more unpredictable – what about sparkling natural orange wine and smoked almonds? Gifting a food item too can give your friend a complete wine experience.
For more great food pairings, head to our post on 'The Best Wine Pairings For 8 Popular Take Out Dishes'.
Armed with these tips, we're sure you'll be able to find the perfect bottle for your friend whenever it's needed (or whenever you fancy a glass together). If you're looking for a bottle now, head over to our exclusive collection of organic, natural and biodynamic wines to see if there is something you fancy. Cheers, and happy gifting!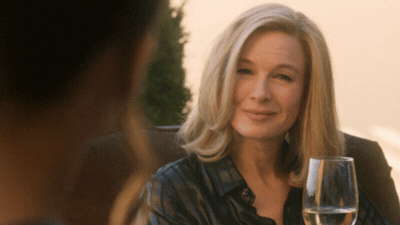 REFERENCES
Bonné, Jon (2017). The new wine rules. Ten Speed Press.

Robinson, Jancis (2017). The 24-hour wine expert. Penguin Random House.
---
---
Also in Sustainable Wine Blog
Alone, with your partner or with close friends, sampling wine at home can actually be a great way to explore new wine varieties and broaden your knowledge of wines. 
Does wine affect the quality of our sleep? We've done a little digging to find out.
Internationally acclaimed brand Neleman Wines is a trailblazer in the organic winemaking industry. Every aspect of their production process has been carefully crafted to honour the unique heritage and biodiversity of the hinterlands of Spain.